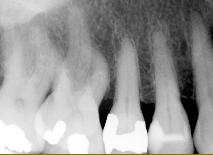 Digital X-RAYS
Dr Kata digital uses digital radiography which reduces radiation by 50-70%, versus conventional X-rays. Our state of the art Suni (TM) digital sensors, are the thinest and most comfortable available. Coupled with the computer , digital x-ray technology allows us to enhance the images for better diagnosis of any dental concerns.
Be comfortable in knowing that you are recieving the minimal radiation dose for the most diagnostic return.
---
Diagnodent Laser - Early Cavity Detection
Why early laser caries detection is valuable:
Does this tooth have a cavity?
To "normal" detection methods" - NO
BUT
To a Diagnodent Laser Detector - YES!
Check out this YouTube video:
---
The Diagnodent is a diagnostic dental laser that aids in making treatment decisions with confidence. Unlike traditional diagnostic methods, Diagnodent is an extremely accurate and reliable adjunct for the detection of

sub-surface caries

. It removes the guesswork that accompanies many treatment decisions regarding questionable areas, such as stained or discolored grooves. It can detect caries before they are visible on X-rays, thus conserving valuable tooth structure by minimizing the size of restorations.
---
Lasers became available in the early 1990's for dentistry. Dr Kata was one of the early pioneers. He lectured on Laser dentistry, and has been a member of several laser associations and societies.
Lasers are used for a variety of dental procedures. They often minimize trauma and bleeding. They are quick and accurate. Dr. Kata has 20 years of experience with laser soft tissue proceedures.
---
Kinetic Particle Abrasion
Dr Kata adopted Air abrasion in the mid 90's. It is a very gentle and relatively pain free method for the preparation of small cavites. Often the need for local anesthesia is eliminated. It is used for the surface preparation of sealants, cosmetic fillings, veneers, and more.
---
Tooth Whitening
Our state of the art LED bleaching light helps the bleaching process. Teeth stain from coffee, tea, wine, red juices, tobacco, and a variety of food products. The bleaching gels are designed to work with the light to whiten your teeth comfortably in as little as one hour. Read a book or relax while the process takes place.
---
Stanhope, NJ 07874
973.691.0400